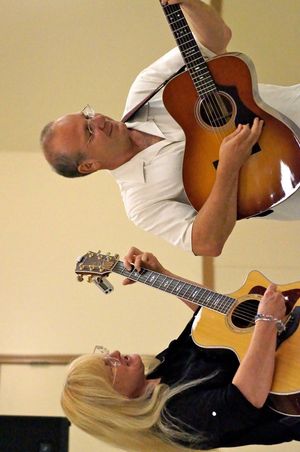 "Perry and Marc write well-crafted songs in the modern folk tradition. Performing, they trade originals back and forth, often joining each other with guitar and vocal harmonies...both have appealing voices that blend beautifully. This duo has a nice blend of energy and musicianship:two strong, flexible voices, engaging guitar work, strong songwriting: what's not to like! It works well."
David Keevil, Acoustic Showcase, Lexington, Massachusetts
"Marc and Perry were the perfect openers for the Ya Ya's show...their combination of great writing, musicianship, and interaction with the audience started the night out in a great way. They had a perfect balance of humor and poetry in their song selections. You know you have a great opening act when the headliners are in the back laughing out loud and applauding as enthusiastically as the audience!"
Rob Mattson, Upton (MA) House Concert Series
Maybe it was predestined.  Two singer/songwriters, both influenced by the 70's music of icons such as Bob Dylan, Neil Young, James Taylor and Warren Zevon wander into each other at a Boston Area open mic.  After a few years of honing their craft, they both release individual CD's of original music on the same day. "The rest is history", says Bridge, "I found myself out performing solo and wishing I could have Perry's vocal backing on my songs, they just felt empty without it". Says Perry:"It didn't take long for us to look at each other and say, why don't we just do this as a duo?"  
Now, whether they are singing their original songs or covering "Boomer Folk" songs, as they like to call them, you can find Perry and Marc performing throughout the New England coffee house, restaurant and arts center circuit. Their music pulls from a variety of genres but leans in the direction of Folk, Americana, Blue Grass, Country and Rock. Between them, they play acoustic and electric guitars, piano, banj-uke, mandolin, harmonica, percussion and kazoo, although not usually all at the same time.  They have each received glowing reviews of their individual CD's American dReam and Sweet Ride, which are both available for download or purchase at a variety of online distributors, notably CDBaby, Rhapsody and ITunes, and have just released their first Bridge&Davies CD: a 9-song live recording from a recent house concert.

Recently, Marc and Perry were referred to as "the new Civil Wars, without the acrimony"...they took that as very high praise!
This summer finds B&D back in the studio, recording as a duo for the first time: individual compositions, new collaborations, and surprising tributes to several of their folk heroes, all made complete with the knowing direction of uber-instrumentalist and producer Seth Connelly.  Look for a late September release...
Marc Bridge has been characterized as "a story teller with a guitar who uses modern day society, politics and relationships to weave an entertaining view of life through his twisted lens.  It's the *twist* that he puts on topics that makes his songs and performances unique and memorable..." Says Bridge: "My style reflects the influences of the folk, rock and country music that I grew up with in addition to my love for social and political satire."
American dReam, his debut CD, will take you on a journey through the faults, endearments, and quirks of modern American society. Marc's CD has garnered wide acclaim, as well as several songwriting competition awards and prizes, including a refrigerator (ask him about it)!

Perry Desmond-Davies' original songs relate to experiences in life, relationships, work, and even serious illness. Her distinctive voice ties the words and music together: always tender, lyric and melodic, at times soaring, seductive or smoky. Says a fan: "her voice and songs are pure and powerful; they touch unguarded parts of the listener, filling us with joy, nostalgia and longing. Once you hear Perry Desmond-Davies, you will never confuse her with anyone else. "
Sweet Ride, her current release, is a full length studio album that has been described as: "an inspired, addictive mix of folk, blues, bluegrass and a capella, all driven by an exceptionally beautiful voice." The 12 original songs (and three live bonus tracks) continue to receive high praise and constant airplay across the US, UK and Canada.